Borrowing Info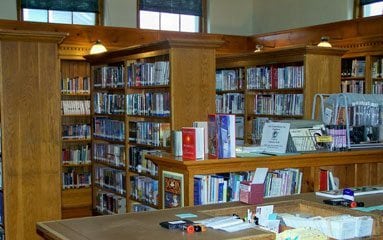 Children under 6 may check out books with a parent, or the parent may check out books for the child.
Children 6-12 may check out books with permission, indicated by a parent's signed membership agreement.
Borrowers, aged 13 and up, may check out materials under these rules:
Number – unlimited books/audios/CDs, 5 videos per family
Borrowing Time – books/audios/CDs for 2 weeks, videos/DVDs for 1 week
Renewals – books/audios/CDs may be renewed twice (unless on reserve), videos/DVDs may not be renewed
Late Returns/Fines – books/audios/CDs – 5¢ per day, videos/DVDs – $1 per day, videos not rewound – 50¢, audios not rewound – 25¢
ANY MATERIALS RETURNED IN THE MEDIA RETURN BOX OR RENEWED ON THE PHONE AFTER HOURS ON THE DAY THEY ARE DUE WILL BE CONSIDERED LATE.
The following materials have recently been added to our collection:
Adult Fiction:
· London Refrain (Zion Covenant Bk 7)by Bodie & Brock Thoene
· Paris Encore (Zion Covenant Bk 8)by Bodie & Brock Thoene
· Dunkirk Crescendo (Zion Covenant Bk 9) by Bodie & Brock Thoene
· Eighth Shepherd (A.D. Chronicles) by Bodie & Brock Thoene
· Ninth Witness (A.D. Chronicles) by Bodie & Brock Thoene
· Wanted (Sisters of the Heart series) by Shelley Shepard Gray
· Forgiven (Sisters of the Heart series) by Shelley Shepard Gray
· Hidden (Sisters of the Heart series) by Shelley Shepard Gray
· God's Samurai, Lead Pilot at Pearl Harbor by George W. Prange
· Joelle's Secret by Gilbert Morris
· A Man for Temperance by Gilbert Morris
· Santa Fe Woman by Gilbert Morris
· Angel Train by Gilbert Morris
· Sinner (A Paradise Novel) by Ted Dekker
· Black (The Circle Trilogy Bk 1: The Birth of Evil by Ted Dekker
· Take Two by Karen Kingsbury
· A Widow's Hope (The Miller Family Series) by Mary Ellis
· A Gift of Grace (Kauffman Amish Bakery Series BK 1)
Rebecca's Reward by Lauraine Snelling
Children's Non- fiction:
· Fountains of Life, The Story of Deep Sea Vents by Elizabeth Tayntor Gowell
Juvenile fiction
· Mandie Collection, The v. 1 by Lois Gladys Leppard
· Vents by Runaway (Starlight Animal Rescue Bk 1) by Dandi Daley Mackall
Non-fiction:
· Into the Deep by Robert Rogers with Stan Finger
· Holy Bible, Large Print Zondervan
CD:
· Best Small Town, The: Volume 50 (Adventures in Odyssey)
DVD's:
· Faith Like Potatoes
· What's So Amazing about Grace? by Philip Yancey
· The last word by Mark Lowry
· Pilgrim's Progress: with Liam Neeson by John Bunyan
Children's DVD's
· Gigi's Hugest Announcement by Sheila Walsh
· Kid's Space: A collection of Kid Favorites! (songs)
· Camp Harmony & The Celebration House: sing-a-long songs & stories (Donut Man) by Rob Evans
· Sing-A-Long Fun Pack by Miss Patty Cake