About Us
"Living fully in Christ through His Word, Community and Mission"
Statement of Faith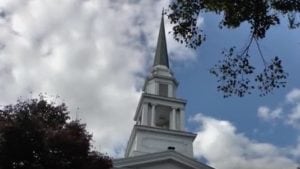 We, the First Presbyterian Church of Lewisburg, Pennsylvania, believe in God's power and rule over all aspects of His creation and His forgivenessfor our sins through the shed blood of His Son, Jesus Christ.
We seek to obey God's Will as revealed in His inspired Word, the Bible. We believe that all Scripture is self-attesting, and being Truth requires our unreserved submission in all areas of life. The fully authoritative Word of God, the sixty-six books of the Old and New Testaments, is a complete and unified witness to God's redemptive acts culminating in the Incarnation of the Living Word, the Lord Jesus Christ. The Bible, uniquely and fully inspired by the Holy Spirit, is the supreme and final authority on all matters on which it speaks. (2 Timothy 3:16-17, 1 Peter 1:20-21)
It is our mission:

• To proclaim and teach the Word of God and the person of Jesus Christ to all who seek Him.
• To grow in our knowledge of and commitment to Jesus Christ.
• To demonstrate to each other, and the greater community, God's love, saving grace, and forgiveness.
• To support, prayerfully and financially, those dedicating their lives to bringing the Gospel of Jesus Christ to people throughout our community, our nation and our world.