Children

Our Children's Ministry includes weekly Sunday School for all age levels,The Big Idea and Children's Church worship time ministries, JAM (Jesus and Me) is a fun-filled midweek ministry for K-5th graders, monthly movie nights and special events.  Summer is filled with fun and learning with VBS and Kid's Cantata and NEW THIS YEAR, Mega Sports Camp.
Vacation Bible School 2016: Cave Quest
June 13-17 9 AM-Noon
Gear up for an over-the-top underground adventure! Get grounded in the rock-solid foundation of God's love, a love that takes us through life's dark times. Join us as we explore this love through science, crafts, music, games, and much more fun! Kids Preschool-Grade 6 welcome!

New this year-you can register online! Just follow the link below or contact the office ([email protected])  with a paper form:
https://docs.google.com/forms/d/1r4uW_C-FFmqNSxdOay9VEdzeTXfdudsmztOCMODhKiQ/viewform
NEW FOR 2016!!! Mega Sports Camp!!!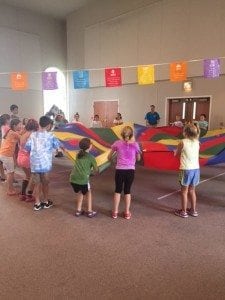 July 18-22 9 AM-Noon
We are pumped to announce that we will be adding an additional summer camp to our schedule.  Kids age K – 6th grade will be practicing and gaining skills in basketball, soccer, dance or cheerleading, as they grow closer to God and have fun! We will be joined by guest coaches who will share their experiences with sports and relationship with Jesus throughout the week. Pre-registration is required-spots are limited! Follow the link below or contact the office ([email protected]) for a paper form:
https://docs.google.com/forms/d/1PrVJODlz8FdrrqRJl0wxfwc43NzXYa6EIKIj9jZzP30/viewform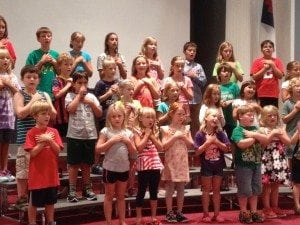 Press On! Kids' Cantata 2016
August 15-19 12:30-3:30
Do you love singing, acting and having too much fun? Join us for the Kids' Cantata! This will be a fun VBS-like week when kids entering 2nd-8th grade will have an opportunity to act, sing, work on sets and props and play games, all while learning about the fruit of the spirit. The culmination of this great week of fun will be when we share our final project in worship on Sunday, August 21 at 10 AM. Register below or contact the office ([email protected]) :
https://docs.google.com/forms/d/1GiCTnbOvPbL_oz3urFNtcT497uwj6OLVSYtLvf12Vbw/viewform